Food Tour To Go
Niagara Culinary Tours presents
Niagara Food Tour To Go Holiday Edition
Back by popular demand! This is a special 2021 Holiday Edition of Niagara Food Tour "To Go". We wanted to share a few of our favourite things for a little rest and relaxation over the holidays. This Niagara Food Tour "To Go" adds a little comfort and decadence and is a perfect gift.
First on our list is a nourishing Victory Gardens Squash Soup straight from their farm and made by Chef Cory Linkson and his team at AG Inspired Cusine in Niagara Falls. It was everyone's favourite in our boxes last year and so nice to enjoy on a cold, snowy day. AG is open over the holidays and is offering some incredible choices including a 3 course meal and our absolute favourite this time of the year, steak frites!
It doesn't get more Canadian than this! A 9" Tourtierre holiday meat pie from Chef Shawn Murphy and his team at Your Farm Gate Butcher Shop and Bakery in Ridgeway. We love Shawn's sense of humour, pride in his community and his commitment to his craft. Worth the drive to Ridgeway for ethically, sustainably raised farmed food.
I bet you love their ice cream but did you know that they have very delicious baked goods too?! From Linda and her team at Hometown Ice Cream we have 1 dozen assorted holiday cookies and a mini bundt cake. They are in an easy to get to, super cute, location on 4th Avenue in St Catharines.
Of course it is the holidays so we wanted to add another sweet favourite, Mincemeat Tarts. These tarts come from Chef Beth McIntee and her team at Niagara Food Company in St. Catharines. Beth's pastries are out of this world and she has a Pie of the Month club to help you get through the winter!
Oh and one more thing! It is Christmas for us so we are including a little something special. A beautifully wrapped little hostess style gift. It might be a dip bowl, a mug or perhaps a little plate for entertaining. What you can know is that it is a surprise and who doesn't love surprises?!
Delivery Dates: December 20-23rd daily from 12-7:00 pm
Price: $100 delivered to your home and including HST
Elevate the Experience with wine by Pondview Estates Winery at Bella Terra Vineyards. (must be ordered separately but will be delivered with order).
To order for your desired delivery date Click HERE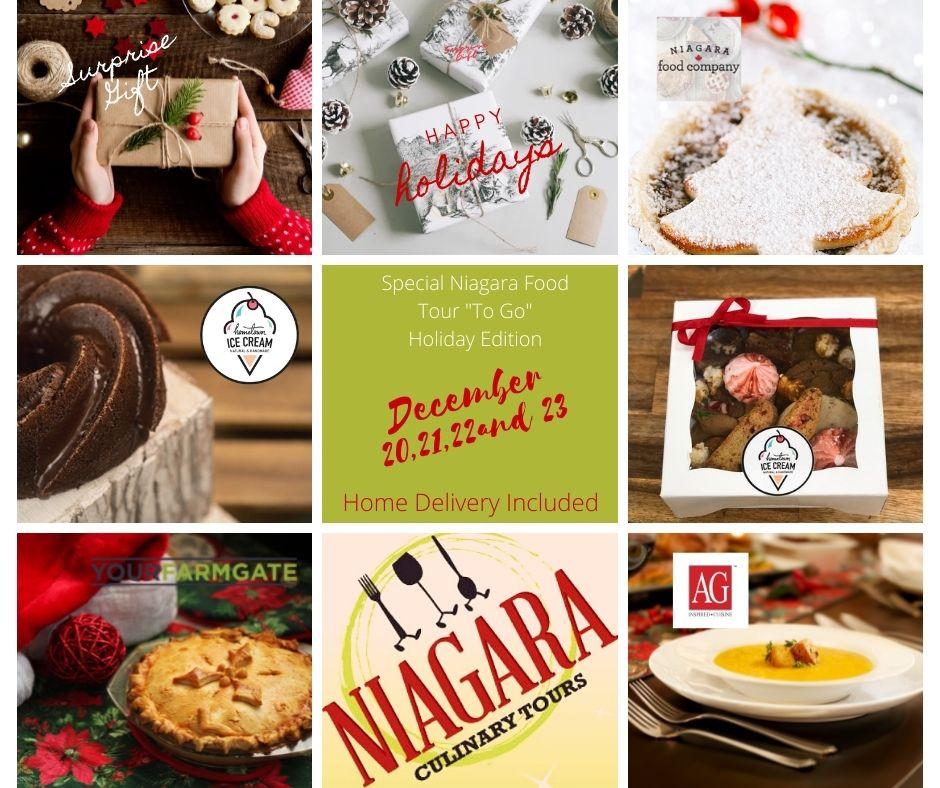 Don't Forget your wine!
We are pleased to offer the opportunity to order wine directly from Pondview Estate Winery at
Bella Terra Vineyards
and Burnt Ship Bay Winery to deliver with your Niagara Food Tour "To Go". Just click the link and indicate in the comments on checkout that the order is for pickup by Niagara Culinary Tours (Steven Lovelace) and we will pick it up for delivery with your NCT order. Please place your order by 12:00 pm the day prior to your Niagara Food Tour "to Go" delivery date.